How to get free publicity!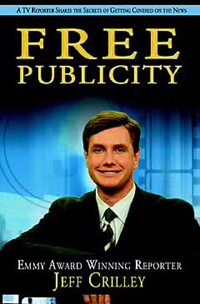 Jeff Crilley is an Emmy Award winning Television News Reporter with decades of experience. In his seminars and book "Free Publicity"
he teaches how to get free publicity from the news media -- taught from the Reporter's perspective.
Jeff speaks from experience, he has crafted local stories that have been televised nationally through outlets including CBS and Internationally through outlets including CNN.
 At one television newsroom in which he worked, they only had about 17 full time reporting teams yet received literally thousands of faxed and emailed story ideas every day. That station only had one person screening that mountain of stories and it was NOT their full time job! That screener's "real job" was monitoring the police radio scanners listening for "real news" like murders, major fires, bank robberies, and traffic accidents.
In that screener's "free time" he spent literally 1-2 seconds on each story idea: "no no no no no maybe no no no no yes no no no no maybe...". Jeff teaches how to circumvent that bottleneck, how to find the reporter who would want to tell your story, how to craft your story and schmooze that reporter so they will want to tell it.
Jeff also teaches how to build rapport with that reporter so you can become their "go to guy" (or gal) for your niche. How to build and nurture that relationship and how to kill it -- what NOT to do.
The techniques Jeff teaches are suitable for Television, Radio, Newspapers and other print media.
Jeff teaches how and when to tap into media "feeding frenzies", when media are desperate for certain kinds of stories.
Case in point: years ago the Dallas Cowboys professional football team hired Bill Parcells to be their new head coach. Parcells was nicknamed the "Big Tuna". On the day his hiring was announced, a local Dallas Restaurant announced they were adding "The Big Tuna Platter" to their menu -- a large Tuna fillet. Television news reporters were lining up to interview that restaurant owner. His clever story angle, properly timed, yielded free televised exposure that was the equivalent of hundreds of thousands of dollars worth of advertising.
Could you use free publicity like that for your business? For your cause? Jeff can teach you how.
Jeff started his own PR firm, Real News PR, to help businesses do what he teaches in his book.
Jeff's book is available through Amazon.com:
Jeff can be contacted via his website www.jeffcrilley.com which also sells his book in both print and CD formats.
If you are ever in the Dallas/Fort Worth area, Jeff co-hosts a monthly "DFW Do-It-Yourself PR" luncheon. Details are available at www.meetup.com
Tags: Marketing Your Club